Along the rocks, 24" x 30", Oil
Wispy clouds, rocks etched by the waves and the still sea uniquely converge to the center to highlight the water in action. Weathered patterns on the rocks peep through the shallow water.
AAn afternoon at the beach, 24"x30", Oil
A powerful wave bursts on the shore as the shallow water retracts. A giant rock enjoys the wash while a distant storm rises.
Serene Landscape, 16" x 20", Oil
Trees and shrubs find shelter along the coast of the river. The big negative space created with flaky clouds and green plains extending to the horizon brings serenity.
(Sold)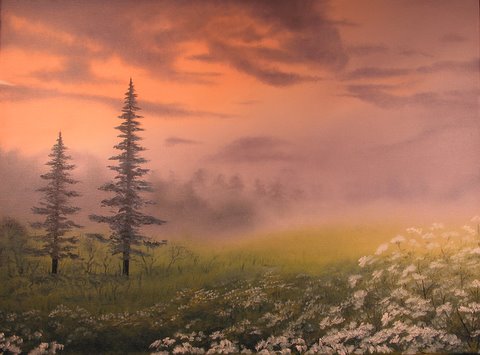 Misty Evening, 18" x 24", Oil
A dreamy evening reflects shades of orange as the distant landscape plays hide-n-seek in the misty fog. The nearest bush shows off its bloom.